Testing pH Lipstick and Gloss
Hi everyone! I was requested by one of my subscribers to create a blog post on pH lip products! Here is what they do: 60 seconds after application, they tint your lips a certain color of pink depending on your pH level. You may be wondering what your pH actually means... pH is how much acidity someone has, as well as how much alkaline they contain in their system. My pH is a hot pink meaning I contain high levels of acidity and alkaline. Some people may have a super light pink or hot pink like mine! If your curious about how you can see what your pH level is, keep reading for affordable lip products you can purchase to test that out!
*I was sent one of the products, but it is for review purposes only and these are my honest opinions!*
Now on with the review!
Review:
Winky Lux Flower Balm:
- This was the product I was sent for being an influencer for Winky Lux, so thank you Nicole! I have always wanted to try this ever since Kailijumei came out with one of these. I was so excited when I found out Winky Lux started making their own version, The Flower Balm. What is so cool about this is that it is a clear lipstick with a real chrysanthemum in the color of your choice in the middle of the lipstick. The colors they have are pink, green, yellow, and their newest color blue!
-During the application, I felt like the lipstick was very smooth, creamy, and hydrating on the lips. After about 10 seconds for me, the color started showing up. I felt like the more coats I applied and the longer I let it sit, the darker my pH level got. While wearing this, I felt like I didn't have to do this 24/7 because of the actual lip color being clear (hahaha):
I felt like this lasted all day because it tints your lips, but after a while, I did touch it up to make the color darker. I literally cannot stop wearing this! I have been seriously wearing this everyday! HIGHLY recommend! Plus, it is only $14!
Physicians Formula pH Matchmaker pH Powered Lip Gloss:
-When I saw this product at CVS, I knew I needed to include this in this blog post because it was affordable and easy for almost everyone to find in stores. This is the Physicians Formula pH Matchmaker pH Powered Lip Gloss in Light Pink. What I thought was unique and cool about this was on the packaging it has a mini mirror and the brush lights up with a little button on the cap.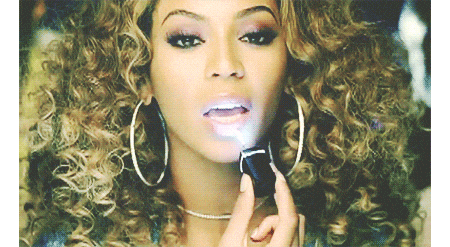 How awesome is that?! It was so hard to wait to apply this until the Winky Lux one had arrived, to compare, but it was worth the wait. It did take 20 seconds longer than the lipstick to get to the hot pink color, but that was alright. This gloss was not sticky at all, it was very smooth and creamy. I also very much so recommend this as well. I tend to wear lipsticks more than glosses, but I will for sure wear this when my lips are very dry.
Thank you for reading and I hope you enjoyed!
Muah <3,
Mia